Knesset hears testimony about discrimination against Ethiopian Israelis following protest triggered by police violence.
Roi Yanovsky/ JP
Leaders of the protest movement by Ethiopian Israelis participated on Tuesday in a discussion of their struggle in the Knesset. Testimony was heard about racism and incidents of police violence.
The discussion occurred less than two weeks after a protest in Tel Aviv prompted by high-profile incidents of police violence, which involved thousands.
Yitzhak Hizkiyahu, a 35-year-old from Tel Aviv who made aliyah when he was six months old, described a demeaning episode he had experienced. "While I'm waiting in line at the Interior Ministry, I see a policeman – he looks right at me, and tells me, patting my back, 'go home, no visa for you today' (in English)."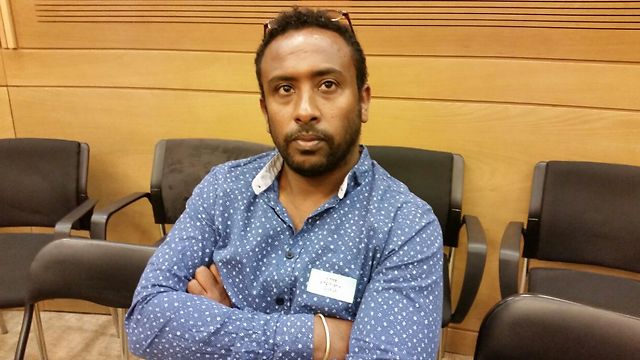 Yitzhak Hizkiyahu (Photo: Eli Mendelbaum)
Hezkiyahu later told Ynet that it was not the only time he was subject to racism. He said he was driving on the highway with his brothers, when a car cut them off. "We braked suddenly and were in shock. Some plainclothes police officers who were in the car came over. 'Are you Eritrean?' they asked, and we said no.
"They took our identification and called three other police cars to the scene. We were delayed for half an hour and felt as though we were at a crime scene. My older brother told them, 'I am ashamed that after so many years this is the treatment I get'. The policeman told us, 'If you don't like it, go back to Ethiopia."
Former MK Pnina Tamano-Shata, the first Ethiopian-born woman to serve in the Knesset, said the issue has been neglected and apparently would not have come to people's attention without the recent outcry.
Opposition chief MK Isaac Herzog of the Zionist Union said that "the authorities' treatment of anyone whose skin color is dark – we need to put this on the table and talk about it. The entire racist and patronizing conversation needs to be taken off the agenda. The recent events are a dramatic wake-up call to the country's citizens." Herzog called for parliamentary inquiry. "Aren't you sick of always suggesting investigative committees?" asked Kobi Tafara, one of the protest's organizers.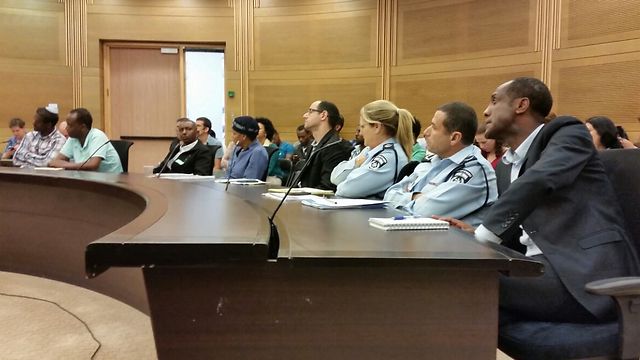 Discussion in the Knesset on Tuesday (Photo: Eli Mendelbaum)

Another leader of the protest, Kais Avihu Azaria, complained that Ethiopian Israelis are treated like refugees. "The problem begins with the question of religion – for how much longer will the Jews of Ethiopia, who have completed army service and school, be unable to marry freely?"

Ziva Mekonen-Degu, executive director of the Israel Association for Ethiopian Jews, said police violence was a daily experience for Ethiopians in Israel. "This is not new at all. But when the Israeli police prepares for a protest by Ethiopians and says there could be violence there and distributes statements that there could be a violent protest, causing the US embassy to announce that there could be violence and not to go to that area – it wasn't the Ethiopians who were violent."

"The first aliyah to Israel was by Ethiopians Jews in 1861, 20 years before the first aliyah," said Gadi Yevarkan, a protest leader. "If it had succeeded, we would have accepted you. Don't tell us what Zionism is."

Likud MK Anat Berko raised the ire of the protest leaders when she criticized the Ethiopian community. "Your youth needs to take responsibility – don't allow the violence and confrontations to take over the protest." MK Rachel Azaria of Kulanu cut her off, saying: "That's audacious. It's very easy to speak from a privileged position."

"Behind all these phenomena stands one difficult word: Racism," said MK Dov Khenin of the Joint Arab List. "Racism is a disease that many communities in Israeli society and threatens us all."

Following the protest in Tel Aviv, Prime Minister Benjamin Netanyahu promised to that the government would soon consider a proposal for a thorough plan formed over the last year.

On Monday, the police officer who suspected of beating an IDF soldier of Ethiopian descent faced a dismissal hearing.
During the protest in Tel Aviv on May 3, a dozen protestors and 56 police officers were wounded in clashes that erupted, while 43 protestors were arrested. Protestors threw stones and bottles. Police used stun grenades and water cannons