Crew flying 24 vintage planes down the length of Africa had been held after officials said they did not have proper authorisation
An attempt by a hardy group of adventurers to fly the length of Africa in vintage planes is back on course after two days stranded in Ethiopia, where the authorities had accused them of illegally entering the country's airspace.
Diplomats from the UK, Ireland and the US were involved in the release of the group of about 40 people, who were held in a small airport in the west of Ethiopia. Their planes are expected to head to Kenya on Friday.
Among the stranded was Maurice Kirk from Bristol, a veteran of such scrapes. He was once arrested for landing a plane at George W Bush's Texas ranch, and was held on another occasion after crashing in Japan.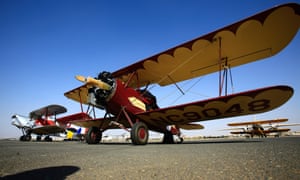 The 71-year-old caused alarm earlier this week when he and his 1943 Piper Cub plane, Liberty Girl II, disappeared near the border of Sudan and Ethiopia, prompting a search-and-rescue operation.
Happily, Kirk – former drinking partner of actor Oliver Reed – and the rest of those taking part in the Vintage Air Rally had managed to touch down safely in Gambella.
Not so happily, the party did not initially receive the warmest of welcomes. Wesenyeleh Hunegnaw, the head of the Ethiopian Civil Aviation Authority, told the Associated Press on Thursday that the pilots entered Ethiopian airspace illegally and were under investigation.
Both the Foreign Office in London and the US embassy in Addis Ababa said they were dealing with the case. A Foreign Office spokesperson said: "We are in contact with the local authorities regarding a group who have been prevented from leaving Gambella airport, Ethiopia."
Friends and relatives of those involved, who are from several different countries, had been trying to help. Terri Tolmack, a Californian businesswoman whose brother Keith is flying a Travel Air 2000 biplane, told the Guardian all the aviators' mobile phones and computers had been confiscated.
On Thursday she confirmed they were being freed. "All crews have been released from the authorities, and will be departing for Kenya in the morning," she said.
The project is an extraordinary one. Husband-and-wife teams, fathers and daughters and entire families are attempting to fly more than 8,000 miles (12,900km) across Africa. They are aiming to cross 10 countries, including some beset by war, in a rally seeking to recreate the 1931 Imperial Airways "Africa Route".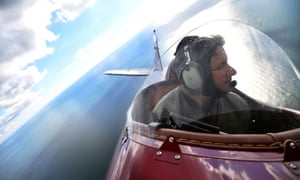 After setting off on 11 November from Crete, they have already flown over the pyramids and their journey is due to take in Mount Kilimanjaro, Zanzibar and the Victoria Falls, before ending in Cape Town, South Africa. They are expected to arrive there on 17 December.
Two helicopters and six modern aircraft carrying spare parts and equipment are flying alongside the vintage planes. Special fuel has been flown into various points along the route.
As well as Kirk, British couple Julia and Martyn Wiseman, from Hull, are travelling in a Soviet-era Antonov An-2 plane. Another British team is flying a yellow Tiger Moth that was built in Australia and saw action in the second world war.
But Kirk is the most notorious of the aviators. As long ago as 1979, he got into hot water after dropping in on a hang-gliding rally in Wiltshire in a wooden biplane. When his plane was examined, it was found to be riddled with woodworm and had a bird's nest in one wing.
He was later arrested in Japan after Liberty Girl I crashed in Kanazawa; he walked out of custody in nothing but a kimono and neck brace.
Even before his disappearance this week, the rally was not plain sailing for Kirk. He almost crashed Liberty Girl II in France when he suffered an engine failure as he approached Cannes. "That so easily could have ended in a tangled pile of twisted aircraft and Maurice," he wrote on Facebook.
On 19 November, he posted: "Where am I? I keep getting lost which is why I really wanted to go via Gibraltar and just keep the sea on my right to Table mountain [near Cape Town]." He has suffered a puncture and propeller failure.
Kirk did not set off with the main party, but joined them en route. He was then asked to withdraw from the rally because of what the organisers called a "mismatch in expectations". They were also concerned about the state of his plane.
He has clearly enjoyed the trip. He said Dongola in Sudan "will always be a memory of what life is really all about … the fried fish fresh out of the Nile … the coffee you can [stand] your spoon up in!"
Source       –   the Guardian