by Vedica Singh
It is widely known that Putin mints cash from his rich oil reserves and if anybody dares to speak against Russia, they get subjected to Putin's wrath. Amidst the Russia-Ukraine conflict, countries that imposed sanctions on Russia are witnessing nightmares owing to the inflated gas and oil prices. Several countries, after sanctioning Russian oil and gas, are now making every effort to find a substitute for it.
Russia's plan of action
Russia knows precisely when to play the smart cookie. Russia, an OPEC Plus nation is all set to leverage its position and influence as an oil supplier. OPEC Plus is an organization of oil-exporting companies from all over the world. OPEC Plus has the capability to push oil prices high when required.
A majority of the OPEC Plus countries come from the Middle East. Russia's influence amongst OPEC Plus and the Middle East has given Putin an edge to strangle the energy supply all over the world.
So, Russia can possibly ask the OPEC Plus countries to refrain from selling oil to Europe or limit supply to drive up the prices that would later benefit the oil-producing nations such as Russia. Surely, Russia's plan will compel the oil exporters to ponder a baker's dozen times before impairing their ties with the big fish in the market. So, for Russia to compel these nations to sell oil or not to from it is like a walk in the park.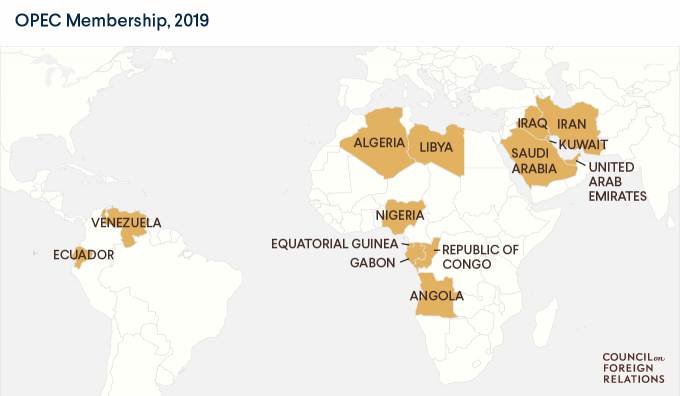 When the prices of oil and gas started soaring, it gave nightmares to the US, compelling it to find Russian alternatives and reduce its dependence on the continent for supplies. The US sanctioned oil and gas from Russia in a bid to scout for other suppliers but this strategy of the US failed spectacularly. However, the US did find an oil supplier other than Russia but what ensued was a bolt from the blue.
Why did the US' strategy fail?
The US dreamt of hitting on all cylinders by having Ecuador as a resource for its oil supplies. The US managed to get oil supplies from its neighbourhood- Ecuador. But soon was subjected to a heavy cross to bear.
Ecuador's government has maintained an anti-Russian position since the onset of the Russia-Ukraine conflict. As a matter of fact, Ecuador voted in favour of the UN resolution condemning Russia's invasion of Ukraine without hesitation. However, this move didn't seem to resonate with the sentiments of the people of Ecuador. They have now flocked to the streets to express their opposition to the government's anti-Russia stance.
What made Ecuadorians disagree with the government?
The protracted conflict between Russia and Ukraine has had a devastating effect on Ecuador's banana industry, which is the greatest exporter of bananas in the world. Russia receives a sizable chunk of the $698 million in annual banana sales. But Russia is not getting its banana shipments because of the invasion-related international sanctions. As a result, Ecuador has lost 250,000 indirect employment and 50,000 direct jobs.
Furthermore, for these exporters, selling their products in other countries is an idealistic idea because no market can ever buy as much as Russia.
An exporter said. "With Russia, we had a trade of more than $1 billion a year. There are products such as bananas that are not easy to place in other markets because of phytosanitary measures".
This led to dire repercussions for the already vulnerable, marginalized, and discriminated populations; increasing poverty and extreme poverty in Ecuador.
US' dreams of sanctioning Russia shattered, in lieu, it witnessed high inflation and caused a flurry of activities on the street. In the midst of this, Ecuador's government consequently resorted to totally halting the oil supplies to the US.
The US who was pounding on several doors to find a Russian alternative is having sleepless nights these days.
Development in Russian ties with Venezuela
In a recent development, Moscow and Caracas are all set to deepen their ties in the oil sector and are drafting a new pact to evade Western sanctions in the financial and logistical sectors.
Carlos Faria, the Venezuelan Foreign Minister claims that the West failed to achieve the aim of sanctions on Russia. Russia however managed to be home and hosed. It seems that the West was just chasing its tail but it led to no fruition.
"We have an extremely negative view of the policy which the United States has been pursuing for many years against various countries, against various governments…We unquestionably condemn the use of these illegal sanctions against any country," Faria said, after meeting his Russian counterpart Sergey Lavrov in Moscow on Monday, Sputnik reported.
Why does no one dare to speak against the giant?
Firstly, after a two-month-long tumultuous period, Russia's energy exports have rebounded due to strong demands from countries like India and China. This means that Russia is stepping closer to exhausting its oil production quota level under OPEC plus with each passing day.
Russia's crude oil production rose to 9.273 million barrels per day (BPD) in May from 9.159 million BPD in April, an OPEC+ document showed on Thursday. Russia's massive oil projects in the Arctic, many of which are under construction, anyway, give Russia the leverage to pump out oil in abundance, that can tank raging oil prices any day.
Russia behaves like a mad dog when it comes to securing its interests. So, Russia can easily flatten global oil market banking upon its heavy discount regime. For instance, nations like India and China have already started to replace their Saudi and UAE oil imports with cheaper Russian energy. Russia won't be having second thoughts before replicating the same in other prominent oil markets as well. So, to avoid rubbing the Vladimir Putin administration the wrong way, any oil-producing nation will have to abide by rules set by none other than the Putin regime of Russia.
Moscow and Caracas are strengthening their defense, trade, and economic partnership despite their vast geographic separation. Well, this might be a kick in the guts of the West which was trying to demean Russia's economy. No matter how hard any country tries to deride the continent but when it comes to Russia this seems to be a cold day in July.