Independent

Donald Trump will not be welcome to address Parliament on his state visit to the UK because of its opposition to racism and to sexism, the Speaker of the House of Commons has said in a major snub to the American President.
In a dramatic intervention, John Bercow, the Speaker, said he was "strongly opposed" to Mr Trump speaking in the Commons as he stressed that being invited to address Parliament was "not an automatic right" but "an earned honour".
"Before the imposition of the migrant ban I would myself have been strongly opposed to an address by President Trump in Westminster Hall," Mr Bercow told MPs.
"After the imposition of the migrant ban by President Trump I am even more strongly opposed to an address by President Trump in Westminster Hall."
Parts of the Commons erupted into rare spontaneous applause in support of Mr Bercow's statement.
The intervention will cause headaches in Downing Street, where Theresa May has bent over backwards to rekindle the so-called special relationship with the US.
Veteran Labour MP Dennis Skinner, speaking after Mr Bercow's statement said: "Further to that point of order: two words: well done."
The Speaker said: "We value our relationship with the United States. If a state visit takes place, that is way beyond and above the pay grade of the Speaker.
"However, as far as this place is concerned I feel very strongly that our opposition to racism and to sexism and our support for equality before the law and an independent judiciary are hugely important considerations in the House of Commons."
Theresa May invited Mr Trump to make a state visit to the UK on her recent trip to the United States. She said he would fly to Britain before the end of the year.
Labour leader Jeremy Corbyn and others have said that the visit should be cancelled until Mr Trump rescinds his "Muslim ban" on travellers from some countries.
Whether the controversial president would address Parliament has been a particular source of contention. Foreign leaders on state visits sometimes address Westminster Hall, which lies in the House of Commons, or Royal Gallery in the House of Lords.
Mr Trump's visit is fast emerging as a political minefield. His team are reportedly hoping avoid any meeting with Prince Charles, whose environmental campaigning might put him at odds with the president.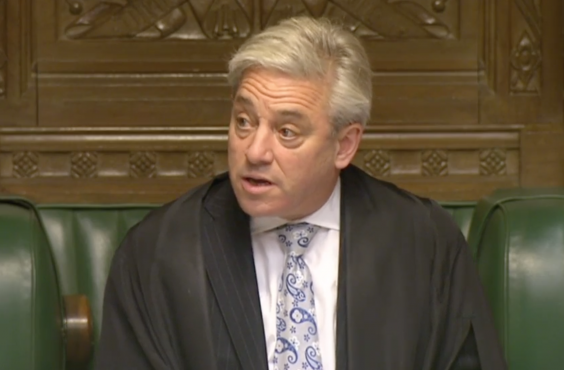 Mr Bercow said he was one of the three "keyholders" to Westminster Hall and also said he would not permit an invitation to the Royal Gallery in the House of Commons to be made in his name.
He admitted that he would "perhaps have a strong a say in that matter" but said that "customarily an invitation to a visiting leader to deliver an address there would be issued in the names of the two speakers".
The controversial orders Donald Trump has already issued
"I would not wish to issue an invitation to President Trump to speak in the Royal Gallery," he concluded.
The Speaker's intervention is a particularly stunning development because the post is politically neutral. Mr Bercow was previously a Conservative MP before he was elected to the role; following convention he then gave up any party affiliation.
Nearly two million people signed a petition calling for Mr Trump's state visit to be cancelled in just days after it was announced. MPs are to debate the issue in Westminster Hall.