Andargachew Tsige's daughter, 9, denied application for judicial review of UK government's handling of case
A British national kidnapped by Ethiopia and held in jail faces an uncertain future after a court ruled that the Foreign Office did not have to intercede on his behalf.
A high court judge denied an application by Andargachew Tsige's nine-year-old daughter, Menabe, demanding a judicial review of the UK government's handling of the case.
Tsige, a prominent opposition activist who had been living in Britain for 35 years, was kidnapped at Sana'a airport in Yemen by Ethiopian security agents in 2014, after having been tried and sentenced to death in absentia.
More than two years later, Tsige remains in prison and the UK government has made no public call for his release. The government has merely lobbied for Tsige to get a fair trial and access to a proper defence team. But lawyers acting for Menabe Tsige argued that this approach had proven useless.
Reacting to the ruling on Wednesday, Yemi Hailemariam, Tsige's partner and the mother of his two children, said: "The judge could clearly see the humanity in the case, but assumed the Foreign and Commonwealth Office must be doing more than just calling for 'due process'. But there is no evidence for this.
"I'm devastated. Nothing has changed for him. He will remain there. It's very sad."
In documents submitted to the court, Menabe's lawyers stressed the real risks Tsige faced if the government refused to change its approach: "Not least, that [he] will be executed, but even if he is not killed, that he will spend the rest of his life imprisoned."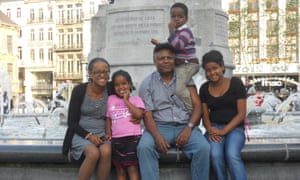 The former foreign secretary, Phillip Hammond, argued that calling for Tsige's released would be "counterproductive, and could affect the government's ability to progress the case". In an open letter published last week, the new foreign secretary, Boris Johnson, maintained this position, and reiterated that "Britain does not interfere in the legal systems of other countries by challenging convictions."
Tsige's release has been called for by the UN, members of US congress, the European parliament, and various British MPs, as international concern mounts over rising repression in Ethiopia.
Tsige is secretary general of an exiled Ethiopian opposition movement, Ginbot 7. He fled the country in the 1970s, after his brother was murdered, and settled in the UK in 1979. The Ethiopian government has accused him of "terrorism". Hailemariam and her children have received no written assurances that the government will not uphold the death penalty and execute Tsige.
Maya Foa, head of the death penalty team at Reprieve, said in other cases of British nationals kidnapped or detained abroad, most recently in the arrest of Lee Bo, a bookseller living in Hong Kong who was seized by Chinese authorities, the government did release statements calling for his release.
She added that international pressure has proven successful in prompting the release of political prisoners in Ethiopia. In July last year, the charges against a group of young journalists, known as the Zone9 bloggers, were dropped and they were released from the infamous Kality prison, where Tsige is also being held, ahead of a state visit by President Obama. Press freedom observers speculated that it was the presence of such a high-profile politician that had forced the government to change its position.
Speaking after the ruling, Foa said: "Over two years into this British father's ordeal, it's deeply concerning that the Foreign Office has not asked for his release – and today's ruling comes as another blow to his desperate family. One thing remains clear – the FCO urgently needs to change its strategy, so that Andy can return to his family in London."